Save on Turbo Tax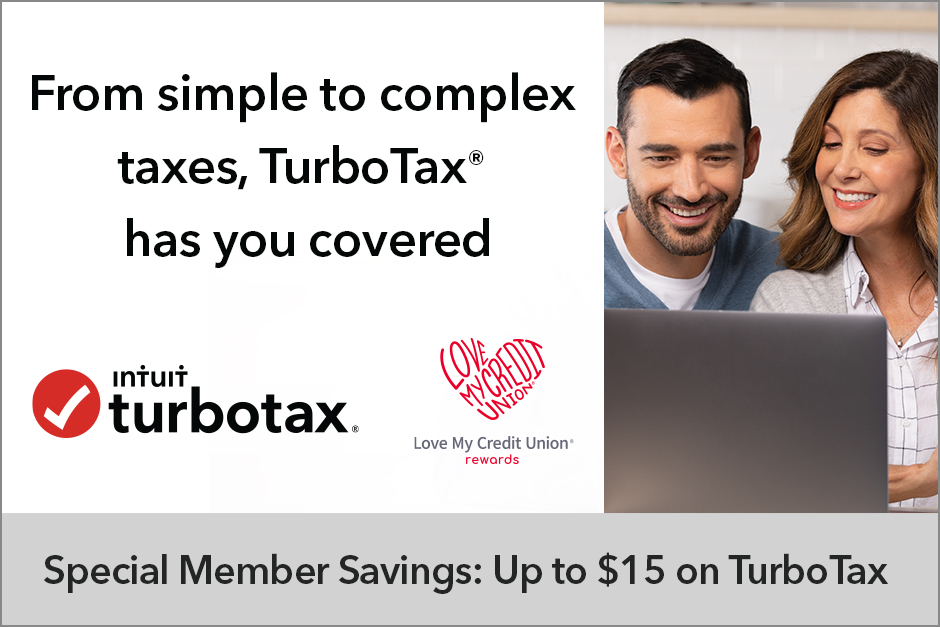 East County Schools Credit Union has partnered with TurboTax to bring you a convenient and accurate way to complete your income taxes and receive the maximum refund each year!
Special offer: Members can save up to $15 and get your biggest possible refund with TurboTax®. Try now for free, pay only when you file!
TurboTax Advantages
Guides you through your return step by step
Ensures you get every deduction and credit you deserve
Double checks your return for accuracy and guarantees its calculations are 100% accurate, or TurboTax will pay you any IRS penalties plus interest
Use TurboTax Live to do your taxes with live CPA or EA advice on demand
Even better? You can receive your refund faster by signing up for Direct Deposit with East County Schools Credit Union and filing electronically.

Click here to Save up to $15 on TurboTax federal products when purchased here. Start Today!
© 2023 Intuit Inc. All rights reserved. State filing charges apply. Limited time offer for TurboTax 2023. Terms, conditions, features, availability, pricing, fees, service and support options subject to change without notice. Intuit, TurboTax and TurboTax Online, among others, are registered trademarks and/or service marks of Intuit Inc. in the United States and other countries. Other parties' trademarks or service marks are the property of their respective owners.