Online & Mobile Banking Upgrades - 9/15/21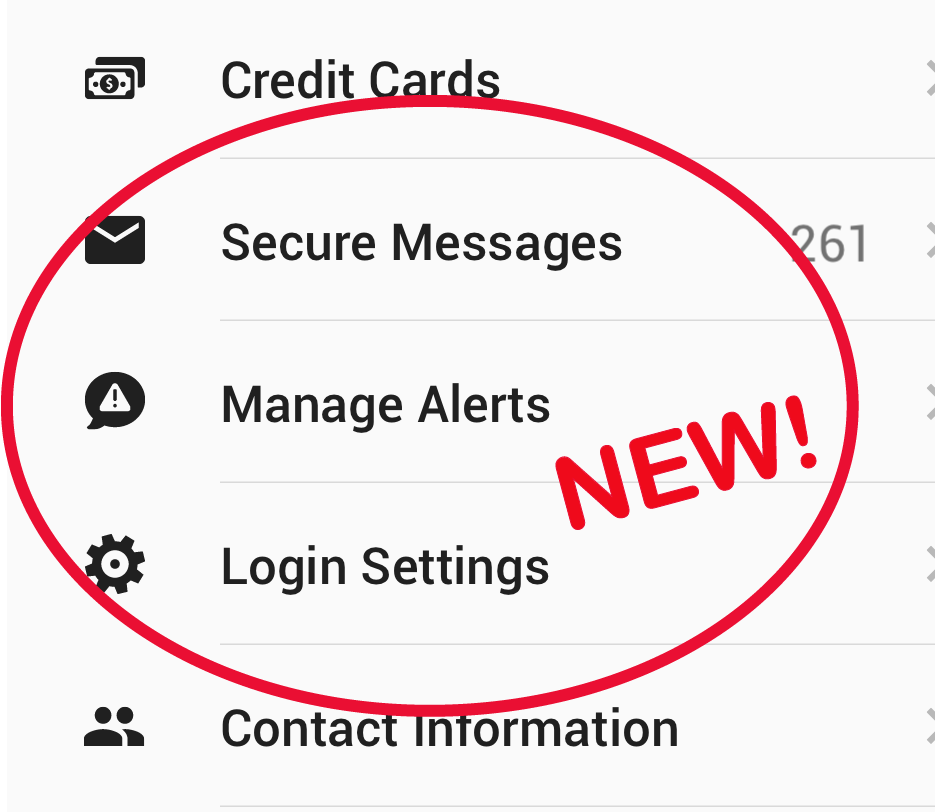 ECSFCU is happy to announce an update to our Online Banking and Mobile Banking services are ready to roll out on 9/15/2021. This will require some downtime for both Online Banking and Mobile Banking beginning Tuesday, 9/14/2021 around 9:00pm through Wednesday, 9/15/2021 4:00am.
What we will be adding:
Online Banking
Account Grouping – All of your accounts will be visible in a new "tile-view" format and can be grouped together in any way you would like. For example, if you have multiple checking accounts, you can group them so they all appear together in the Account Overview section of Online Banking. To group your accounts, click "Manage Account Grouping" in the Accounts Overview toolbar and create the group(s) you would like to add. Go back into Accounts Overview and drag the accounts or loans into your new group.
SMS/Text and Push Notification Account Alerts – You can now set up your account alerts, e.g., Low Balance Alerts, Large Transaction Alerts, Contact Information Change Alerts, etc., to send you an SMS/Text message and/or appear as a Notification on your mobile phone as well as an email. To set up your Alerts, select Messages & Alerts – Manage Alerts – Select or Create the alert you would like to have texted to you and select the SMS and/or Push Notifications.
Password Breach Notification – As an enhanced layer of security, our security networks now check to see if your password is listed in any of the known data security breaches that have occurred across many different online systems. If the password you are using appears in one of the publicly available "compromised password" databases, then a message displays at the top of the Online Banking web page recommending that you change your password as soon as possible. PLEASE NOTE: This does NOT mean that your ECSFCU account has been compromised nor that ECSFCU's network has been breached, only that somewhere across the Internet, the password you are using appears in a list of known compromised passwords and should be changed. This also does NOT mean that your username and password combination have been compromised somewhere, only that your specific password appears on a list. Having a unique password for your financial accounts is highly recommended.

Mobile Banking App
Enhanced Account Consolidation View – If you have multiple account numbers with ECSFCU, you can now see ALL of your accounts with a single login. You no longer have to "switch accounts" to see all of your accounts. Also, any "Account Grouping" that you set up in Online Banking will now appear in Mobile Banking as well.
Add and Manage Account Alerts – You can now manage your account alerts within the Mobile App as well as within Online Banking. Alerts include: Large Transactions Alerts, Balance Alerts, Login Alerts, Loan Payment Due Alerts, and many, many more.
Send/Receive Secure Messages – You can now send and receive secure messages through ECSFCU Mobile. In the past this was only available through Online Banking, but it is now here in the Mobile app. You can also set up an alert through the Manage Alerts menu option to text you or push a notification out to your mobile device when you receive a new secure message from ECSFCU.
Multiple Security Enhancements – The are several new security enhancements to ECSFCU Mobile that have been added to create even greater protection against any unauthorized party from gaining access to your private information when you access ECSFCU on your mobile device. This includes, Tapjacking prevention, Certificate Pinning, Authentication Request Signing as well as blocking ECSFCU Mobile access from any jailbroken or rooted devices.
For more information on any of these new enhancements, please call or text ECSFCU Member Services at 619-588-1515 or contact us through secure messaging in ECSFCU Mobile or Online Banking.