Free Avoiding Identity Theft and Scams Seminar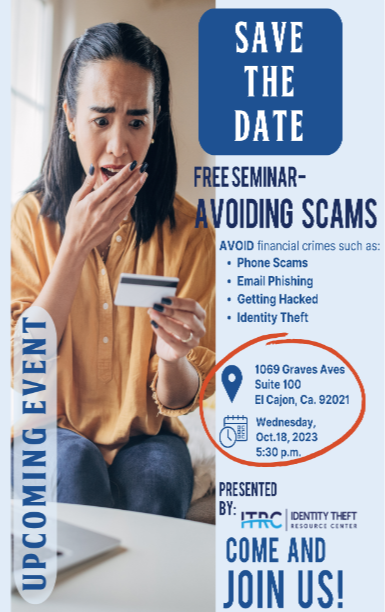 Identity Theft can and does happen every day across a wide variety of methods. This seminar will provide information to educate yourself (as well as your teens, parents and friends) with information to keep your identity and your finances safe from the bad guys as much as possible.

Wednesday, Oct. 18, 2023 5:30 - 6:30pm
East County Schools FCU - El Cajon branch
1069 Graves Avenue, Suite 100 El Cajon 92021

Learn from a professional with 30 years in law enforcement what the current scams and identity theft schemes are, how to keep yourself safe and prevent these from happening to you, and then what to do if it happens to you.

Presented by Randy Lawrence of the Identity Theft Resource Center.
RSVP for the "Avoiding Scams" seminar to reserve your spot! RSVPs requested.