Your money when you want it.

MyPayNow provides on-demand, near real-time access to your earned wages.

Available to contracted employees of participating districts, it is
no credit check, no credit reporting

has no hidden fees nor interest charges
has no cost to sign up nor use
Avoid unfair fees from lenders and other financial institutions with MyPayNow.

Near Real-Time Access and Flexibility
Request up to $1,000 of your earnings, up to the amount of your monthly direct deposit to ECSFCU. It will be credited to your East County Schools Federal Credit Union Checking or eChecking account in about an hour.

MyPayNow is powered by PayActiv and exclusively offered by East County Schools Federal Credit Union.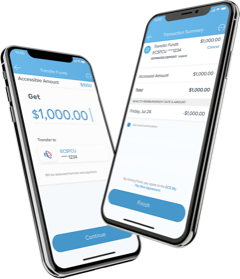 Frequently Asked Questions

MyPayNow allows you to access money you've already earned, between paychecks, one time each pay period. The money that you access is then debited from your ECSFCU Checking or eChecking account on your next payday.

How does it work?

Open an ECSFCU Checking or eChecking account if you don't have one already, and set up direct deposit from your school district employer, of at least the amount you might elect to access. $100 minimum direct deposit is required. If you would like to access the maximum of $1,000, you will need to direct deposit at least that amount each pay period to your Checking or eChecking.
Download the PayActiv App from the Apple/Google Store and create an account. Register with your employer name, employee ID and your 14 digit ECSFCU Checking or eChecking account MICR # or the last 4 digits of your ECSFCU debit card. After creating your account, you will see the MyPayNow home screen.
You will be eligible to access your pay once you have completed at least one direct deposit to your ECSFCU account.
How do I pay back funds?
Funds accessed using MyPayNow are debited from your ECSFCU Checking or eChecking account on payday.
I worked today. Why isn't the accessible amount showing?
It might be the first day or the last two days of your pay period. If not, this shouldn't happen. Please contact the PayActiv support team so they can assist you right away.
How long does it take to get Earned Wage Access funds?
MyPayNow accessed wages can be requested to your ECSFCU Checking or Checking account 24/7/365. Funds are transferred within 65 minutes.

What's the catch?
There is no catch! ECSFCU operates a "School Employee Benefit Business Model" and this is just one example of the difference we make for our East County school employees. After all, it's your money.

Download the PayActiv App to get started from Apple/Google stores

24/7 Online Chat Support 1.877.937.6966
support@payactiv.com
Call or text our ECSFCU branch office at 619-588-1515 during regular business hours of 9am-5pm